PRESS RELEASES
HOME
/
PRESS RELEASES
/Zinox provides Nigerian schools with e-Learning services on Spacecom's advanced AMOS-17 satellite
Zinox provides Nigerian schools with e-Learning services on Spacecom's advanced AMOS-17 satellite
01.03.2021
Zinox provides Nigerian schools with e-Learning services on Spacecom's advanced AMOS-17 satellite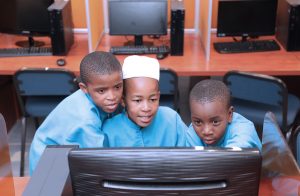 Ramat Gan – 1 March 2021: Spacecom (Tel Aviv Stock Exchange: SCC), a satellite service provider and the owner and operator of the AMOS satellite fleet, together with its local partner in Nigeria – Intertel, and in partnership with Zinox, a leading Nigerian internet and e-Learning service provider, has signed a multi-year contract to enable internet connectivity and e-Learning solutions for schools in Nigeria. Spacecom worked closely with its partners in Nigeria to bring this deal to fruition through utilization in C-Band High Throughput (HTS) capacity on the advanced and powerful AMOS-17 satellite.
Spacecom's AMOS-17 digital and C-band HTS capabilities enable unique satellite efficiencies covering all of Nigeria with one single beam, compared to using multiple smaller beams as common with other HTS satellites. Using these advanced technological advantages enables significant economic benefits and flexibilities, such as lower Capital Expenses (CAPEX) as well as cost-effective ongoing Operating Expenses (OPEX), materializing advantage all the way to the end customer over an excellent coverage of communities.
Guy Avrahami, VP Sales Nigeria at Spacecom, said: "Spacecom is happy to provide solutions that bring value to the Nigerian people cost-effectively. The partnership with Zinox entails important and inspiring opportunities to the most remote places in Nigeria. Connecting the unconnected, from semi-urban to the most rural areas in Africa, is a major pillar in Spacecom's plans going forward. We look forward to continuing the cooperation with Zinox as part of this mission we wish to achieve in Nigeria and we have more plans ahead".
Abdlrazaq Shittu, Group Managing Director/CEO at Intertel Nigeria Limited averred with nostalgia that Intertel is excited to partner Spacecom to provide Zinox high throughput satellite connectivity in the Nigerian broadband space: "Zinox's IP connectivity to its customers over AMOS-17 allows delivery of premium solutions but cost-effectively that seamlessly bridges digital divides".
"Quality communication and e-Learning solutions are important at all times and especially during the COVID-19 pandemic. Thanks to Spacecom and the AMOS-17's unique capabilities and cost-effective solution, Zinox was able to gain significant advantages and high performance. We are excited to provide more reliable service to Nigerian schools.", said Abolade Kazeem, Head of Technical Operations at Zinox. "Using our network and learning equipment together with excellent satellite-based communication services via Spacecom, kids all over Nigeria will have access to quality education. With foregoing Zinox has entered a niche club of premium ISPs in Nigeria, where only two ISPs currently operate, thus setting the pace for others to follow. The upgrade has now positioned Zinox to provide better services and execute numerous project sites across the federation.
With the transformation, Zinox is now able to offer Ku-band and C-band services to its customers at a significant competitive advantage and at high speed while maintaining her current single Hub."
About Spacecom:
Spacecom (TASE: SCC) is a Satellite communication provider, and proprietary owner and operator of the AMOS satellite fleet. Its recent addition, AMOS-17, is a fully digital and advanced High Throughput Satellite (HTS) which further expands Spacecom's reach over Africa, Middle East and Asia.
Operating since 1992, the company has built a strong standing as an innovator in its field, and serves as a partner to its customers, providing satellite connectivity, network optimization technologies, consultation and tailored solutions to suit their specific needs and drive business growth.
Spacecom's solutions include managed services, professional services, turn-key solutions, Cellular Backhaul, truncking solutions as well as broadcast, data and broadband satellite services. Spacecom's customers include ISPs, telcom and MNO operators, DTH / OTT operators, network integrators and government agencies, for both civil and homeland security.
With strategically located satellites, Spacecom provides vast, reliable coverage over Africa, Asia, Europe and the Middle East. via their satellite fleet which includes, AMOS-3 and AMOS-7 satellites co-located at 4°W, AMOS-4 at 65°E, and AMOS-17 located at 17°E. The company also holds various teleports strategically positioned in Africa, the Middle East, North America and Europe.
For more information about Spacecom, please visit https://www.amos-spacecom.com/
About Intertel:
INTERTEL Nigeria Limited is a comprehensive ICT and Telecommunication solutions concern representing premium international providers in Global IP connectivity, Satellite Communication Systems, Microwave Radio Communication Services, Bandwidth Optimization, Communication Tests & Measurements – for Fiber, Copper and Wireless networks, Base Station Site Maintenance, Technical Audit and Transmission Clean Up.
INTERTEL also provides enterprise-wide total ICT solutions to mission critical businesses with customized multi-platform data and voice networking solutions with the deployment of highly reliable, industry leading products, emphasizing on service quality.
Operating since 1992 as a one stop-centre for comprehensive high-tech telecommunication, IT, and last mile security solutions. Intertel has partnered with world class concerns from middle east, the North America, Europe, and Asia to date to deliver cost effective innovative solution at customer oriented SLAs.
For more information about Intertel, please visit: https://www.intertelng.com/
About Zinox
Zinox Technologies is the foremost company to go into the uncharted terrain of Computer production and ICT solutions in West Africa and has etched its name into the world IT history books by notching a lot of firsts. These include but not limited to, the first internationally certified indigenous computer brand in West Africa, the first computer brand in the world to incorporate the Naira sign (N) on its keyboard, the first metropolitan WIMAX solution in Nigeria, among a host of others.
Zinox technologies provides hybrid wireless solution, a scalable, robust and secure wireless network that is setup to provide over 1KM radius coverage per sector with VSAT broadband internet access.
The VSAT is used to bring the internet access to the campus and it is connected to the wireless connectivity network.
Zinox provides e-Learning solutions, such as a world-class online interactive e-library (Electronic Library) content. The Digital Library will provide technological tools to promote maximum interactivity of the online community with the content and among themselves.
Zinox Technologies has again blazed the trail as Nigerian best and most advanced Internet Service Provider (ISP), as it upgrades its internet service with AMOS-17 satellite through Nigeria foremost technologies company Intertel and Spacecom.
The combination of band frequency AMOS-17 possesses has positioned Zinox ahead to offer optimal services to its project sites across the federation.
Media contact:
Irena Sakhno
+972587634949
Copyright 2022 AMOS Spacecom. All rights reserved.