PRESS RELEASES
HOME
/
PRESS RELEASES
/Spacecom and Yes DTH Extend Service Agreement for Additional Two Years  on AMOS Satellites
Spacecom and Yes DTH Extend Service Agreement for Additional Two Years  on AMOS Satellites
12.07.2021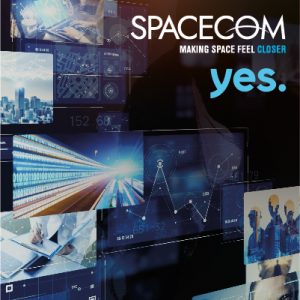 New USD 14 Million Extension Increases Yes Total Order Backlog to USD 100 Million
Spacecom Also Signed Two-Year Extension Contract with AsiaSAT for AMOS-7 Lease, At Annual Cost of USD 14 Million
Tel Aviv – July 12, 2021: Spacecom (Tel Aviv Stock Exchange: SCC), the satellite services provider and owner-operator of the AMOS satellite fleet, today announced it had signed a two-year extension deal with D.B.S. Satellite Services, operator of Yes DTH in Israel. The deal, worth USD 14 Million, will continue the DTH's operations from the AMOS-7 and AMOS-3 satellites at Spacecom's 4°W orbital hotspot. With this agreement, Yes order backlog increases to USD 100 Million. The extension by Yes represents its vote of confidence in Spacecom's AMOS satellites, services, advanced technologies, and leadership team.
The agreement with Yes has an additional two potential extensions of six-months each, starting at the end date of the new agreement. If realized, the extensions will result in an additional USD 7 Million of revenue for Spacecom.
Spacecom also reported the extension of its lease agreement with AsiaSAT, the owner of the AMOS-7 satellite, for an additional two years until 2024. The annual new and reduced lease fee is USD 14 Million.
The above continue the company's recent released transactions including a USD 38 Million extension of services with the Government of Israel and a USD 6 Million contract with an African MNO, among other news.
Also, the company reported last month on current negotiations with 4iG Plc., a Hungarian information technology and telecommunications company (Budapest Stock Market: 4iG Nyrt.), for the latter to take a majority 51 percent stake in the Israel-based satellite services company. 4iG recently won a contract to build a Hungarian national satellite.
Spacecom CEO Dan Zajicek, "Signing this two-year extension with Yes allows them to simultaneously use both AMOS-3 and AMOS-7 and continues the recent positive momentum accelerating Spacecom's development. This includes significant deals such as our investment in Canada's NuRAN Wireless and the approximately USD 9 Million extension of services agreement on AMOS-3 with Magyar Telekom, from the Deutsche Telekom group."
Copyright 2022 AMOS Spacecom. All rights reserved.