PRESS RELEASES
HOME
/
PRESS RELEASES
/Spacecom Deepens African Presence with Strategic Partnership and Investment in Canada's NuRAN Wireless
Spacecom Deepens African Presence with Strategic Partnership and Investment in Canada's NuRAN Wireless
29.06.2021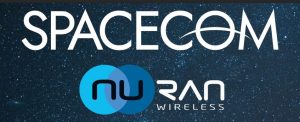 Agreement Grants Spacecom Exclusivity for Recently Signed Deals with Orange Camaroon, Orange Democratic Republic of Congo and All Future NuRAN Managed Services or Satellite Capacity Projects in Africa
Spacecom's Annual Potential Revenue from Currently Signed NuRAN Deals estimated at USD 2-3 Million
June 29, 2021- Tel Aviv: Spacecom, (TASE:SCC), the satellite services provider and owner-operator of the AMOS satellite fleet, today announced it has signed a strategic cooperation agreement with NuRAN Wireless Inc. (CSE:NUR), including a USD 3.2 million investment (CAD 4 million) in the Canadian communications company. Spacecom is acquiring 9.3% of NuRAN's equity, subject to the contract's conditions.
NuRAN's satellite-based wireless communications solutions enable mobile wireless operators (MNOs) to efficiently deploy sites to generate network coverage in hard-to-reach and rural regions where infrastructure is neither economically feasible nor cost-efficient.
The partnership agreement grants Spacecom exclusive rights to provide satellite capacity and bandwidth for all future NuRAN African operations. This includes NuRAN's recently won large, long-term contracts to expand Orange's MNO satellite network coverage for its Cameroon and Democratic Republic of Congo (DRC) operations. These deals, and all future ones, will utilize Spacecom's AMOS-17 advanced, digital satellite whose characteristics deliver significant advantages for Africa. Spacecom's expected potential annual revenue from these deals is between USD two to three million, depending on the deals' progress.
The collaboration is integral to Spacecom's strategy to further its position as a leading Communications Service Provider of satellite-based solutions in Africa. This move advances the company's program to integrate into its portfolio distinctive technological solutions that fit the target markets, including investments and joint ventures with companies possessing these exceptional technologies. Spacecom is penetrating the continent's telecom and mobile markets with a wide variety of solutions and services above and beyond providing satellite capacity including designing, planning, operating, and managing advanced communication networks.
Dan Zajicek, Spacecom CEO, stated, "I am happy and proud of our joint agreement with NuRAN Wireless to provide communications to remote regions and low-density population areas in Africa. This initiative represents an additional strategic step by Spacecom to bridge the continent's digital divide. The advanced, unique capabilities of AMOS-17, alongside NuRAN Wireless's solutions, demonstrate Spacecom's obligation to provide services in Africa's regions with limited infrastructure. We look forward to strengthening and expanding our African operations by emphasizing solutions for MNOs."
Francis Letourneau, CEO of NuRAN Wireless, stated, "This strategic partnership between NuRAN Wireless and Spacecom is vital to bridge the digital gap. The companies' combined expertise and experience will ignite the potential of the rural market. Over one-third of the African population needs mobile and broadband connectivity that leads to significant growth to be captured. NuRAN's executive team is delighted by this strategic alliance and looks forward to a connected future."
Copyright 2022 AMOS Spacecom. All rights reserved.